3 Answers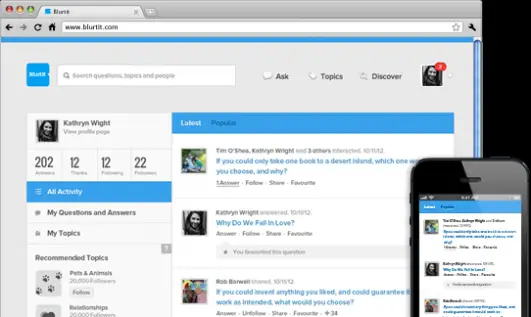 Many ways! Lets explore some!
Easier ways to chat. It doesn't seem very user friendly right now , I'm struggling to persuade all my old blurtit friends to come back on because they believe that this new blurtit restricts you on speaking out.
More users of course! I'm still working on it. But blurtit needs to find a variety of users. Right now, I feel like the odd one out. You guys are all clever and I'm the only dumb one here. Thanks guys!
The obvious one here....you guys need to figure out how users can upload their own avatar and NOT through twitter.
The "topics" section has a few glitches I thinks...It won't allow me too follow some of them. Any reason?
The old blurtit would have funny and nice captions as soon as you logged on! That would be fun if we had that now, it would just make blurtit seem a little more fun! Things like "Shalom Addi" it used to say...made me feel special for a bit LOL.
Where is your suggestions tab? I thought you had one...for users to post in there how to make blurtit great! I have many suggestions!
With the questions that don't get answered and maybe of someone's expertise on here, there should be a "suggestion" thing where blurtit suggests questions that certain users can answer. Similar to the ones the user has already answered or asked.